Colored Gold
At VRAI, gold is offered in three colors: yellow, white and rose. Colored gold is a combination of pure gold and alloys, because in pure form (24k), gold is an orange-yellow color and is too soft to work with in jewelry.
With the addition of alloys, the harsh orange color is softened and the material becomes more structurally sound and capable of retaining shape. Alloys allow yellow gold to retain a variation of its "true" gold color, can cool down white gold to shine through its silver essence, and give rose gold its warm, blush toned hue. For engagement rings, the color of your gold will affect your VRAI created diamond's hue, since light bounces off the metal to reflect on your diamond.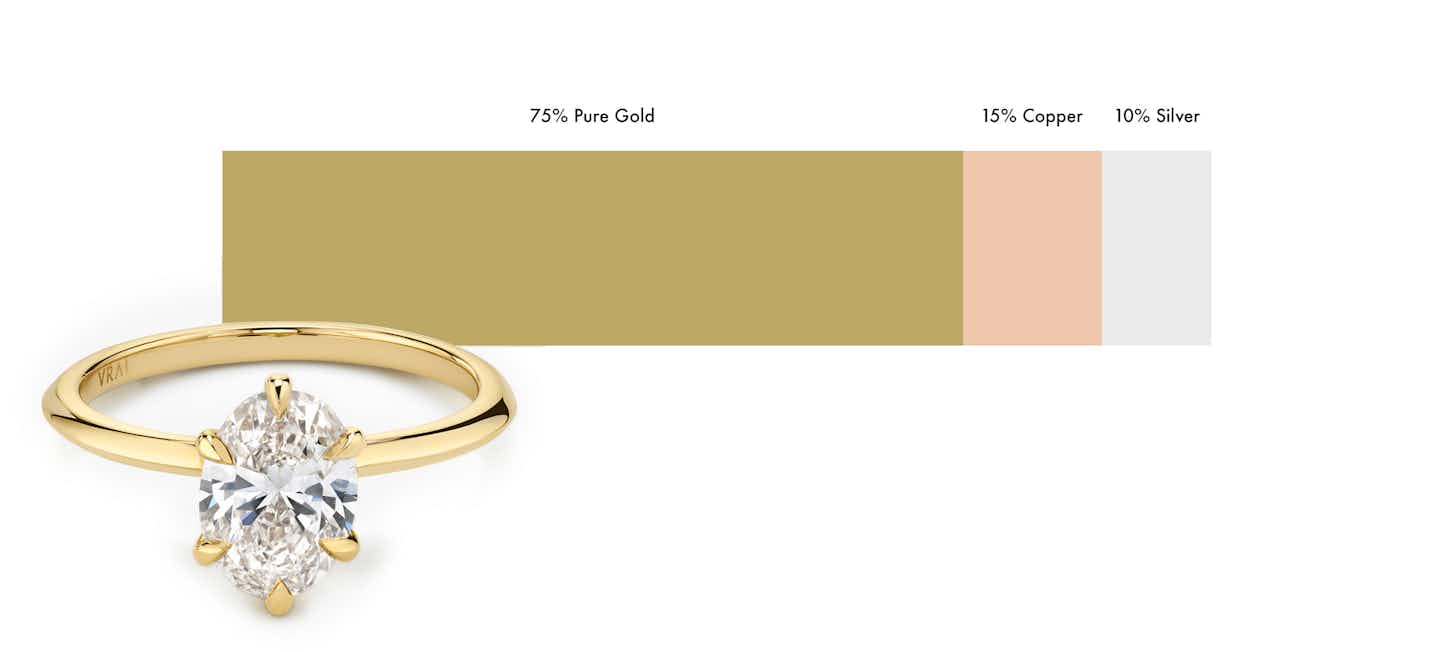 Yellow gold
Yellow gold combines pure gold, fine silver, and copper, resulting in a rich and warm golden hue. If you choose yellow gold, you can more easily justify selecting a diamond with a warmer color as the yellow gold setting will offset the added warmth of the diamonds giving you more flexibility within your budget - we recommend diamonds between G-J in color. However, many people like the look of a more colorful diamond, which is why we occasionally offer faint (K) colors. Yellow gold is our most popular and classic color choice as it has stood the test of time.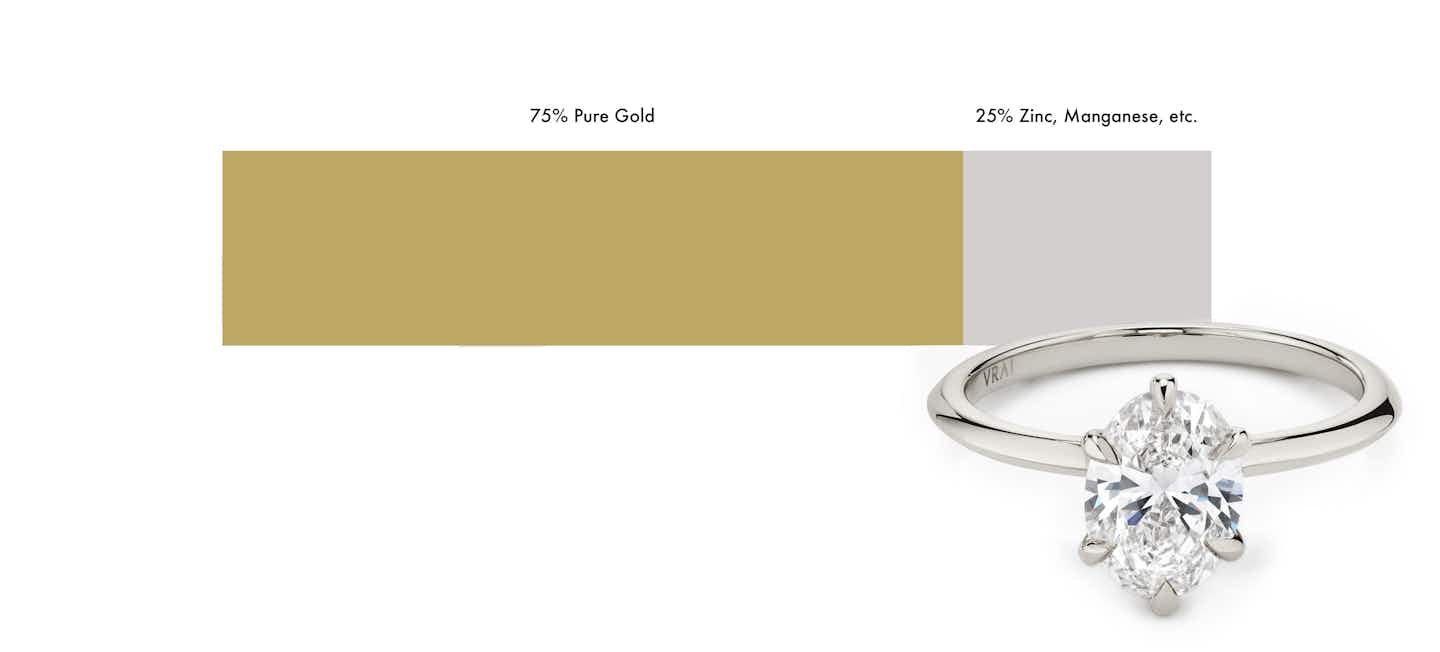 White gold
To achieve its white color, pure gold is often mixed with zinc, palladium, or nickel alloys. White gold rings are also dipped in rhodium, giving them a brilliant, chrome-like color, while also protecting them from scratching. However, to maintain its white luster, white gold should be "re-dipped" every few years - a simple and affordable upkeep included in our lifetime care package. White gold's bright white color can emphasize yellow coloring within the diamond so we recommend selecting a diamond that is H+ on the color scale.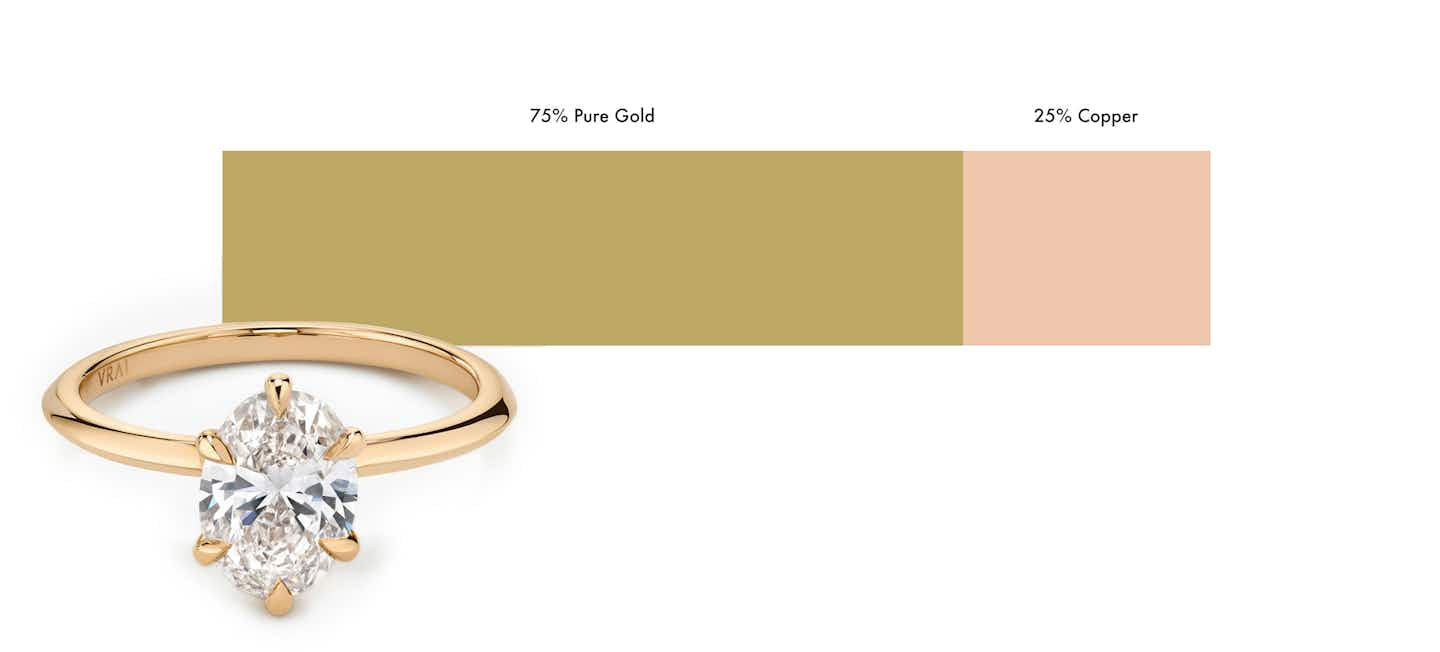 Rose gold
Yellow gold mixed with copper alloys is what gives rose gold its known pink finish and ethereal feel. The more copper alloys added, the deeper the rosy hue meaning that 14k rose gold can either be slightly more pink or have silver alloys added to create balance. Rose gold - once called red gold or Russian gold - is considered romantic and delicately feminine; rose gold has been popular for generations and ages gracefully.